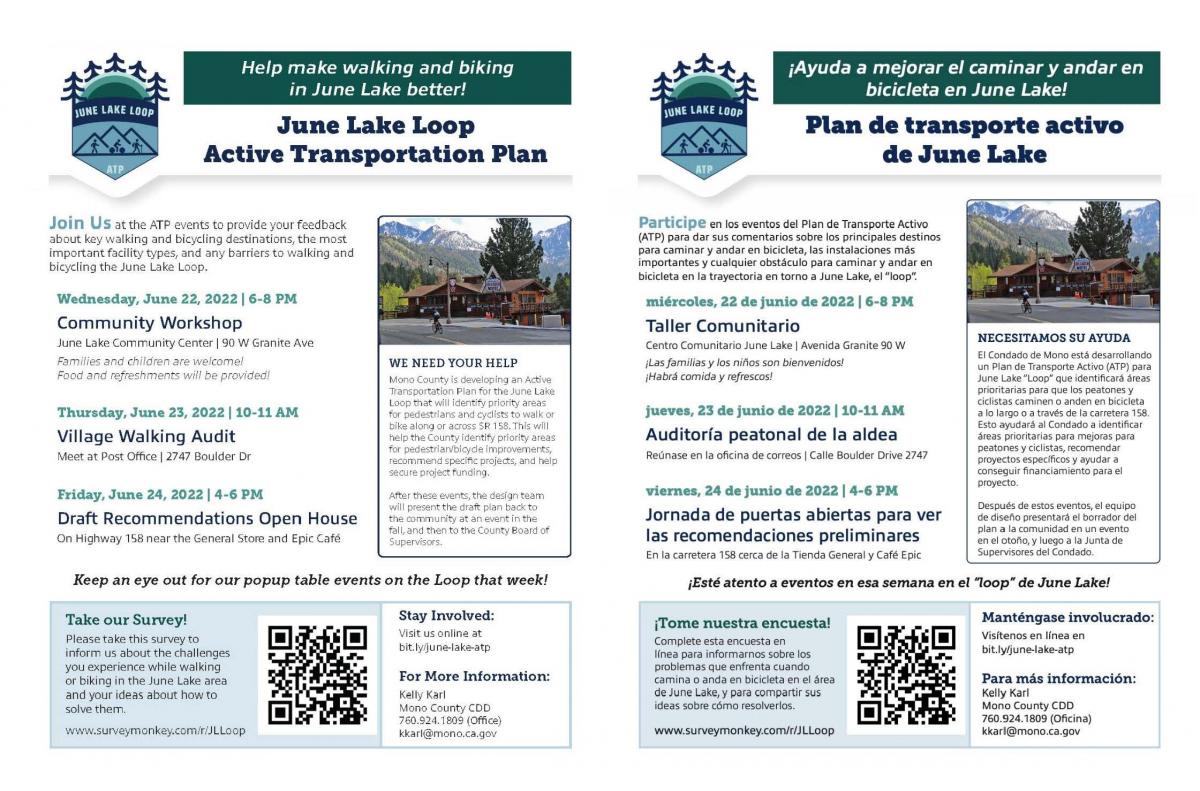 Project Description
The Mono County Local Transportation Commission (LTC) was awarded a Caltrans Sustainable Communities Transportation Planning grant in  fall 2020 to develop an Active Transportation Plan in June Lake with the goal of improving facilities for pedestrians and bicyclists traveling along State Route 158. In partnership with the nonprofit CivicWell (formerly Local Government Commission and partner on Bridgeport Main Street project), multi-day participatory planning design charrettes will be conducted in spring/summer 2022 to engage community and agency members in this planning process. Transportation planning and engineering consultant, KTUA will provide expertise on active transportation and multi-modal design.
The June Lake Active Transportation Plan (JLATP) will establish community consensus, identify priority areas for pedestrian/bicycle improvements, recommend specific projects, identify opportunities to connect with regional and local planning projects (e.g. Down Canyon Trail Project), and establish priorities and cost estimates for future implementation projects. Emphasis will be placed on connections to businesses and recreational areas to improve commuting and visitor services, especially for the disadvantaged population. The plan supports state and regional goals of reducing vehicle miles traveled and GHG emissions, maximizing mobility and accessibility, preserving, and ensuring a sustainable regional transportation system, and protecting the environment and health.
Upcoming Events
Join us at the upcoming ATP events June 22-24, 2022 to provide your feedback about key walking and bicycling destinations, the most important facility types, and any barriers to walking and bicycling the June Lake Loop.
Please take this survey to inform us about the challenges you experience while walking or biking in the June Lake area and your ideas about how to solve them. https://www.surveymonkey.com/r/JLLoop [1]
Use our interactive map to identify locations and issues that the Active Transportation Plan team should address. https://junelakeatp-ktuagis.hub.arcgis.com/ [2]
Meetings
March 2, 2022 @ 6 PM - June Lake CAC: June Lake Active Transportation Plan Kick Off and Initial Steps
April 6, 2022 @ 6 PM - June Lake CAC: Discuss existing conditions/issues and public engagement strategies. 
PROJECT CONTACT
Kelly Karl, Mono County Associate Planner
kkarl@mono.ca.gov [3]
760-924-1809